Ideas for Landscaping With Crushed Rock
Turn your yard into a water-saving oasis of color and form, a weed-free zone for relaxation or a terraced wonderland — all with crushed rock. Hardscaping, the art of applying inorganic materials for visual or practical effects, offers many design possibilities. Plan your landscape before you shop for rock to get the best results. Beyond its aesthetic possibilities, crushed rock suppresses weeds and conserves water and soil.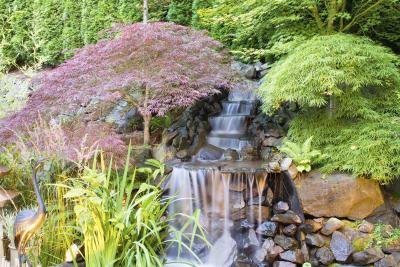 Landscaping Rock Basics
Rock available in crushed versions includes limestone, granite, lava rock and blue stone. Laying landscaping fabric conserves your crushed rock by keeping it at the surface. Without it, rock is prone to becoming embedded in the soil and may become coated in mud from watering. Landscape fabric also reinforces the weed-deterrent effect of of the rock. Crushed rock creates a neat, textured look around plants and serves as an inorganic mulch. Don't use limestone near plants that prefer acidic soil as it raises soil pH.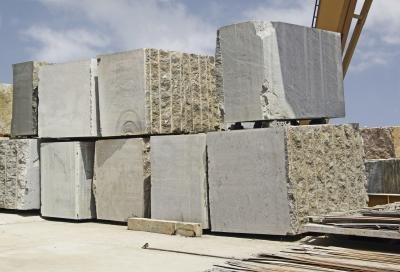 Paths and Lawn Replacement
Crushed rock works well for garden paths on its own or between pavers or flagstones. Gravel is often made from rounded rocks that can be slippery. The crushed rocks' irregular shapes mesh together, offering a more solid surface for stabilizing outdoor furniture and walking. To save water and labor, replace all or most of your yard's water-intensive features such as lawns. Although crushed rock offers a natural, rustic appearance and drains well, it can be difficult to keep it looking neat in areas of your garden prone to plant debris.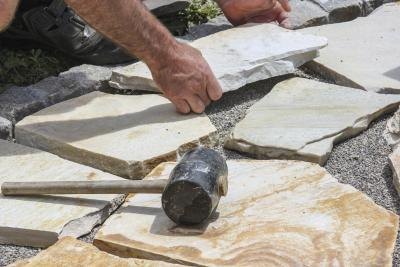 For the Roof
Rooftop gardens, dubbed "vegetative roofs" by the experts at All Professional Remodeling Group, LLC, are becoming increasingly popular for urban dwellers and folks with flat roofs. Rooftop gardens not only add aesthetic appeal to a home or building, they also improve its energy efficiency. Crushed rocks can take the energy efficiency of a rooftop garden to the next level. Light-colored or reflective rocks will reflect sunlight away from the house or building, reducing the amount of heat absorbed. More than that, a path of crushed rocks is the perfect way to make a rooftop garden the perfect place to walk around and relax.

Design With Color and Shape
A contrasting color creates a pleasing effect, such as tan rock for a brick house or red lava rock for a white or yellow house. Use more than one color to add interest. For example, alternate beds of red and black crushed lava rock for a low-maintenance side yard without plants. Set off a tropical garden with crushed blue stone paths and a crushed limestone seating area. White rock increases glare and may create excessive heat for plants. Black rocks take in the sun's heat and radiate it into the soil, which can harm plants in hot climates. Use flexible edging, such as 3-inch-high bendable steel, to contain crushed rock in a desired shape. Create a square or rectangle of crushed rock to set off a picnic area or a circle around a fire pit.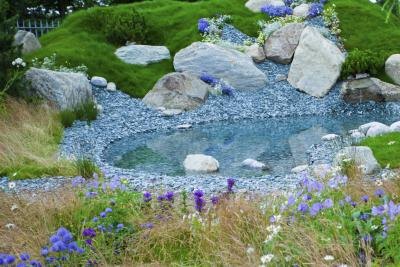 Prevent Erosion and Add Dimension
Spread crushed rock on terraces or slopes to reduce erosion and add texture to the landscape. A row of matching or contrasting rocks, such as 6-inch river rocks, can serve as edging for each level of a terrace and at the base of slopes to prevent the crushed rock from being displaced during watering or heavy rainfall. Place the edging rocks right next to each other. Improve the appearance of landscape areas that lack a focal point by adding decorative features such as a fountain, statue or group of boulders before adding crushed rock.